Wordsworth Plaque
The Wordsworths, William and his sister Dorothy. made a tour of Scotland in August and September 1803, travelling all over the Highlands and Lowlands. At that time, during the Napoleonic Wars, it was not possible to travel in Europe and so many turned to the "exotic" and romantic parts of Britain.
Dorothy Wordsworth as always kept a journal of their tour, describing the landscape and towns, where they stayed, the state of the roads, etc In September they came to the Borders and were accompanied for much of the time by Walter Scott. He knew the Borders well and also the people. At Jedburgh they could not find accommodation at the Inn (now the Spreadeagle Hotel) because it was the time of the Assizes or Circuit Court and the inn was given over to the Judges and other court officials. They were found excellent lodgings in Abbey Close and were most affected by the hospitality of the 70 year-old lady of the house, Nelly Mitchell, (whom he called the "Matron of Jedburgh") who looked after them so well and spoke at length of her life and times and that of her blind husband, who had been a currier (in the leather industry). William was moved to write a poem to celebrate their stay with this lady.
However, Dorothy was not impressed by the state of the nearby churchyard, "slovenly and dirty"; nor by the habit of local women to use the table-top grave slabs as a convenient place to beat their linen as part of the laundering process.
While in Jedburgh, Walter Scott accompanied them on a walk around the countryside by the banks of the Jed, to view the red sandstone scars, the caves and Ferniehirst Castle. They admired the view of Jedburgh which "looks exceedingly beautiful on its low eminence";and the tower of the Abbey, "arched over … by light stonework resembling a coronet".
They dined at the Inn with Walter Scott who recited his poem The Lay of the Last Minstrel and the following day visited the minister, Dr Somerville, (uncle of Mary Fairfax Somerville) at the manse. At that time the church was housed within the Abbey church and the manse was built in the grounds. The Somerville family expressed regret at the felling of trees in the Jed valley, spoiling their view to the south.
The Wordsworths went on to visit the Court proceedings and the procession that followed it "to the sound of a trumpet, the Judge first, in his robes of red, the Sheriffs next, in large cocked hats, and inferior officers following." They were not impressed but were pleased to find that the landlady of the inn had connections with the Wordsworth family. The old lady at their lodgings gave them Jeddart Pears for the journey along with sandwiches and cheese cakes.
They proceeded to Denholm and Hawick, still accompanied by Walter Scott.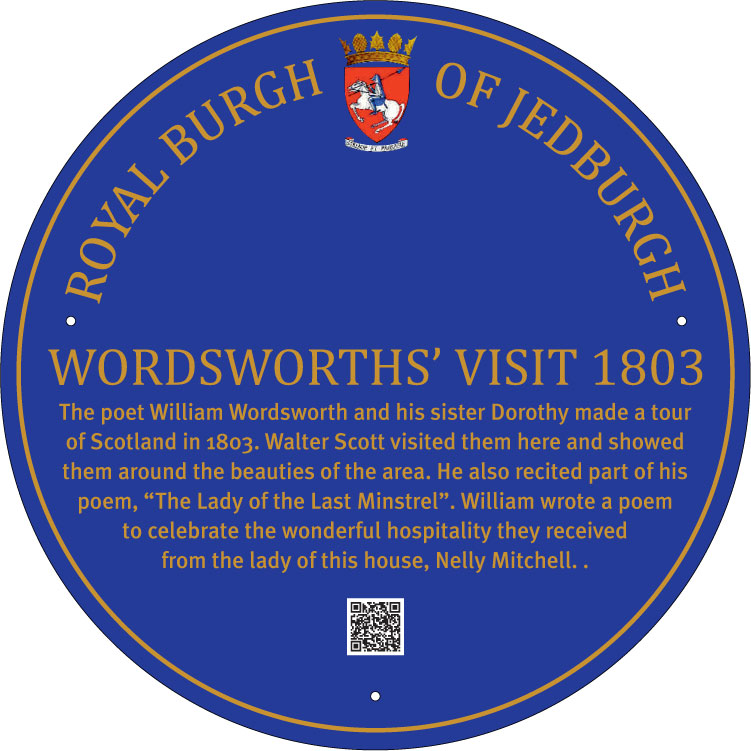 « Back to map