Jedburgh Historic Walks and the Blue Plaque Trail
In 1997 Mrs. Mairi Wallace was prompted by her great love of Jedburgh and its history to create a group of volunteer guides who could conduct walking tours around the Royal Burgh. The aims of the group were to promote Jedburgh as a tourist town and to develop its historic attractions. Aided by the prestigious Edinburgh Blue Badge Guides, the volunteers were well trained in the history of the town and in the arts of guiding.
Over more than twenty years the guides conducted groups, large and small, around the town, relating its fascinating and colourful history. They have recounted true tales and tall tales, of the great Abbey, of Border Warfare, of Reivers and Jeddart Justice, of kings and queens, scholars, poets, scientists, and engineers, of heroes and rascals.
Although now officially disbanded, the group has provided a legacy, in conjunction with 'The Jed Eye', by providing the text for at least 32 Blue Plaques which have been placed on historic sites around the town. With the aid of a Trail Guide, visitors can now conduct their own "historic walk" around our beloved town.
Blue Plaque Trail Guides
are available from VisitScotland and elsewhere around the town. They can also be viewed online by clicking the image below: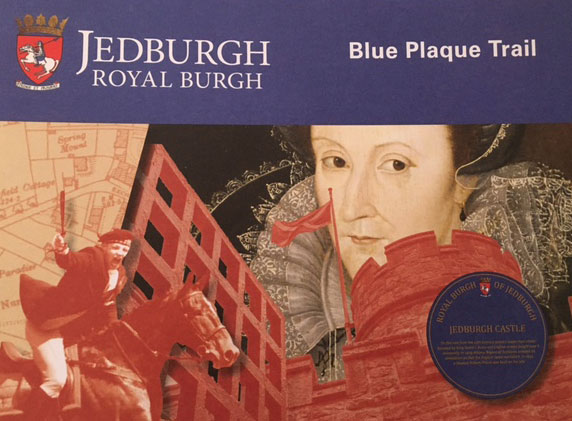 Click here to view
« Back to map