Black Bull Hotel
In the 18th century this building housed the Black Bull Inn. It became notorious in August 1726 as the location of the murder of a local gentleman, Colonel Stewart of Stewartfield (now Hartrigge) by Sir Gilbert Elliot of Stobs.
The early 18th century was a time of turmoil for Scotland: the disastrous losses suffered with the failure of the Darien Scheme in the1690s, the Union with England in 1707, the recent 1715 Jacobite uprising. There were many subjects, national and local, over which quarrels could arise. In addition, gentlemen were in the habit of carrying swords in an age when drinking to excess was almost de rigeur. Scottish inns were famous for serving claret, a custom deriving from Scotland's long connection with Bordeaux. If these stocks failed, brandy might be available. Death or injury was not an unknown consequence of drinking sessions.
So it was in the Black Bull that day, after a parliamentary election a noisy, drunken, argumentative company occupied an upper room in the inn. An argument arose between the two gentlemen probably concerning the election. In an age when electors were few and ballots were not secret, candidates would know who voted for them. It seems that Col. Stewart had not voted for Sir Gilbert and although he had won the election in July, this probably rankled with him.
Insults were exchanged and in spite of the efforts of their companions, Sir Gilbert drew his sword and stabbed Stewart. His manservant, George Rigg, seeing that the stabbing was liable to be fatal, bundled him out of the inn. He made good his escape, losing his wig in his haste, and was hidden by his manservant behind a gravestone in the Abbey church yard. After the hue and cry had subsided he escaped on horseback to Rulewater where he was hidden until he could be smuggled by ship from Berwickshire to Holland where he lived as an outlaw. Colonel Stewart died of his wounds.
A special meeting of local magistrates, including at least one kinsman of Elliot, was held and heard evidence which was sent to the Lord Advocate who subsequently issued a warrant for his arrest.
However, Sir Gilbert had many influential friends and they succeeded in procuring a royal pardon for him. He returned to Scotland and died in 1764.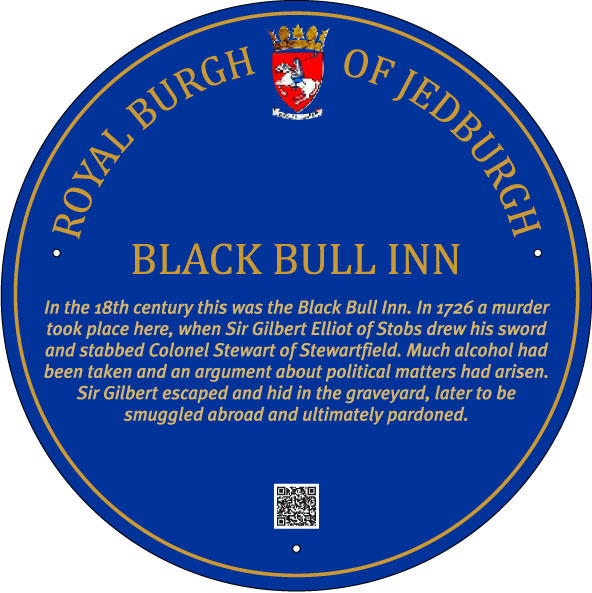 « Back to map